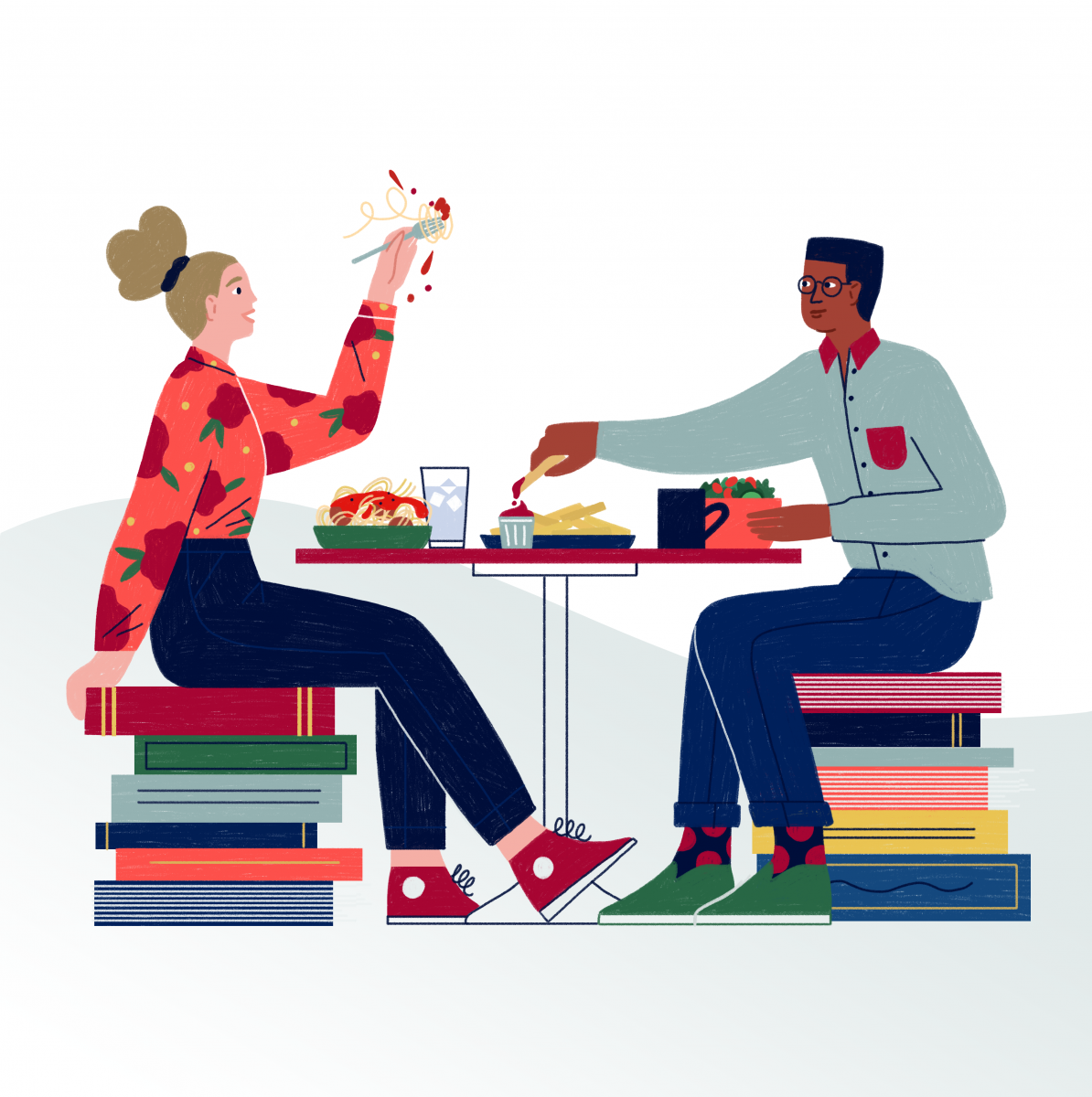 The Value of a Dining Plan
Penn Dining brings you flavorful, nutritious food and helps create community across campus by providing easy access to conveniently located, great-tasting meal options right on campus. Hang out with your friends and enjoy the array of tastes, fun events, and the flexibility that truly makes a dining plan worth having.
Convenient Locations
From the east side of campus to the west side, we have a dining cafe located within 600 steps of where you live, work, or study.
Quality Ingredients
Meals center on abundant fresh produce, whole grains, and lean and/or plant-based proteins, prepared with minimal amounts of healthy, plant-derived fats. Flavors are developed through skilled healthy cooking techniques, with the use of fresh herbs and authentic spices, not through unhealthy shortcuts of using fat, sugar, and salt.
A Community Setting
From Sushi Nights to Chef Specials, Quizzo to Movie Nights, Penn Dining is here so you can relax with friends. We help you not only #Live Penn, but love it too!
Curated Menus
Menus are written based on seasonality and availability of regional fresh ingredients. Our chefs each design their own menus and recipes allowing each of our cafes to showcase their unique flavors and individual take on your favorite foods. 
How Plans Work
Residential Dining
Our residential dining cafés offer students a variety of meal options in an All-You-Care-To-Eat service style.  Students use their visits (also known as "meals" or "swipes") upon arrival. Each time they enter a residential café, one visit will be deducted from their balance. To gain entry, just tap your PennCard at the cashier station and go ahead to build your meal.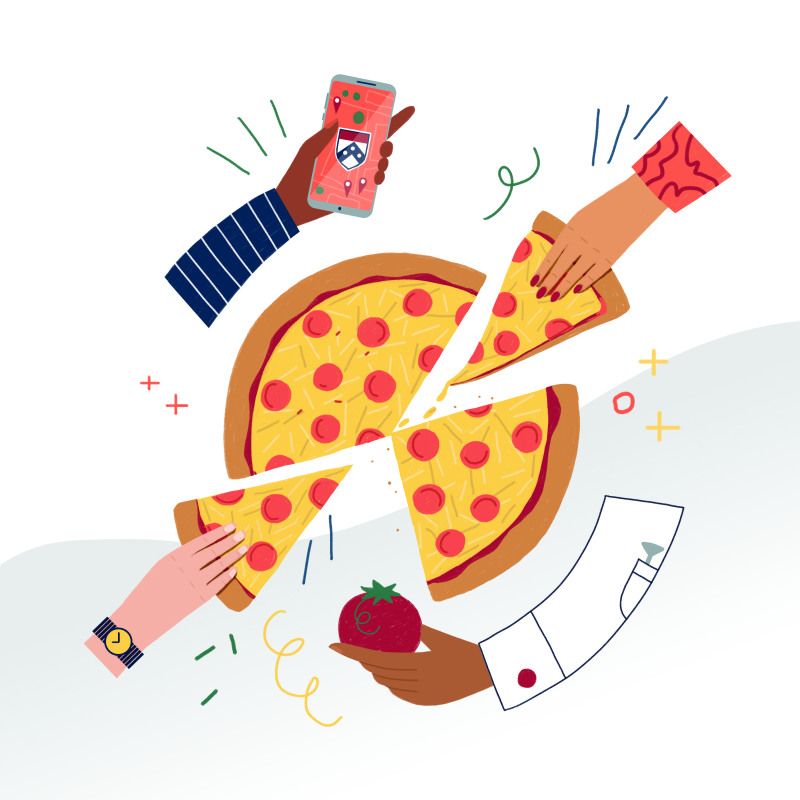 How Plans Work
Retail Dining
Our retail dining cafés sell items à la carte, and guests with dining plans will use their Dining Dollars for purchase at a dollar-for-dollar value. Each time you make a purchase, that amount is subtracted from your Dining Dollar account balance.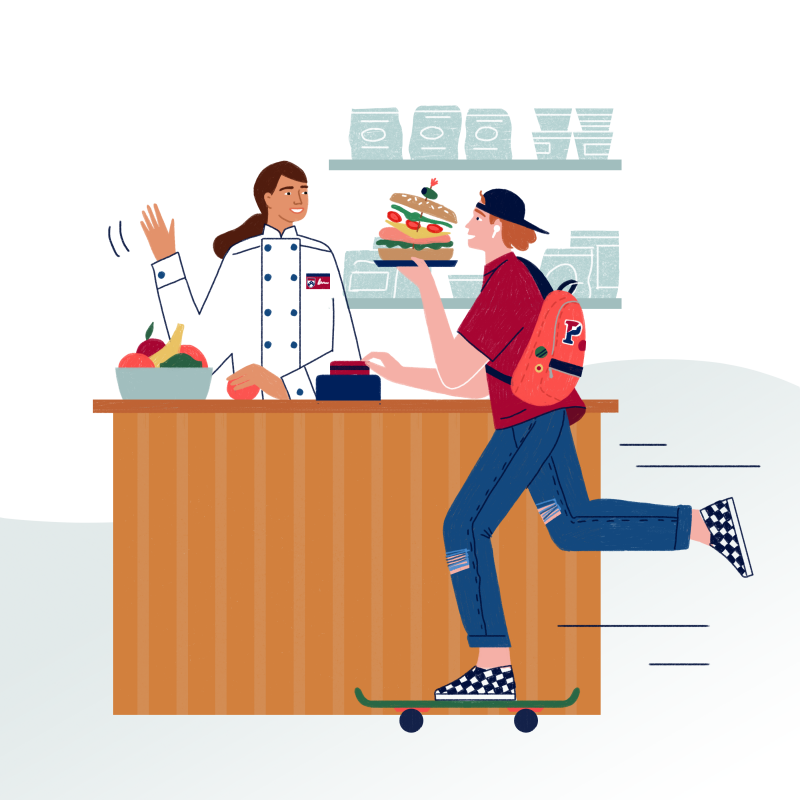 Meal-Exchange
More ways to use your swipes
Meal-Exchange allows students to use a swipe for pre-specified meal bundles (entrée, side(s), drink) at Houston Market, Gourmet Grocer and Lauder House and McClelland Retail.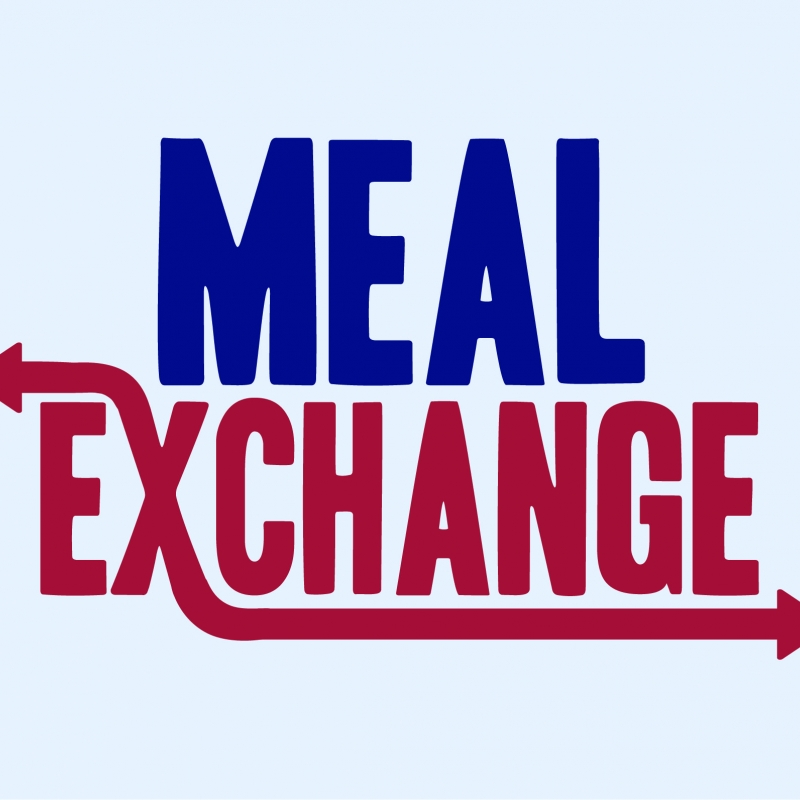 Dietary Needs
No matter your taste, we've got you covered.
Vegetarian? Gluten-free? Dairy-free? No matter what you need to thrive, we have options for you. Each Penn Student has their own taste, schedule, and preferences so we offer a wide range of food options, dining styles, and dining plans to satisfy them all.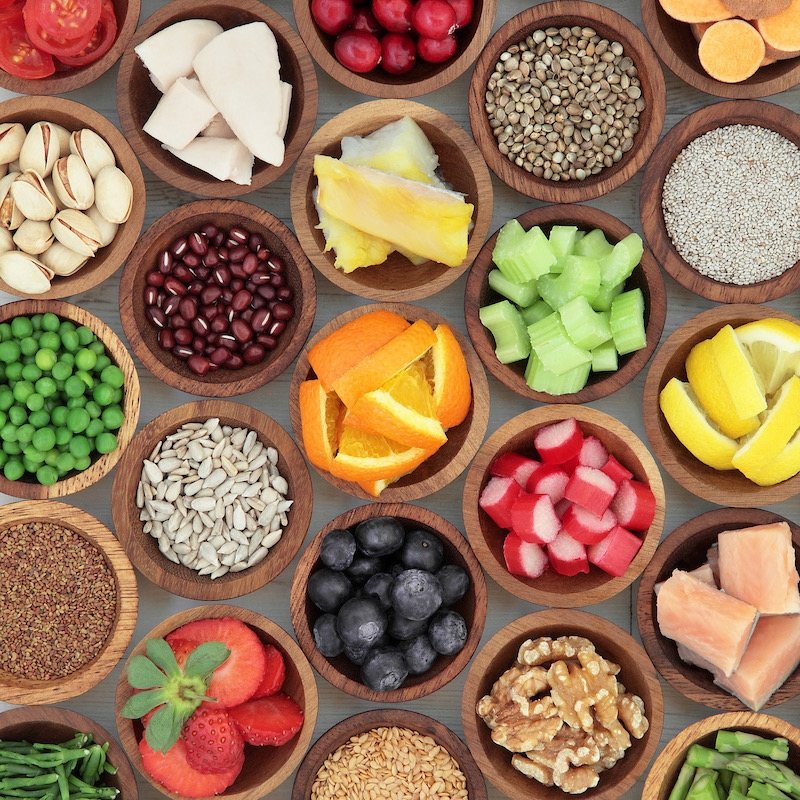 Convenience
Taking the stress out of meal planning.
With menu mail, quick order kiosks, micro-markets, and to-go options, we help you plan your meals around your schedule.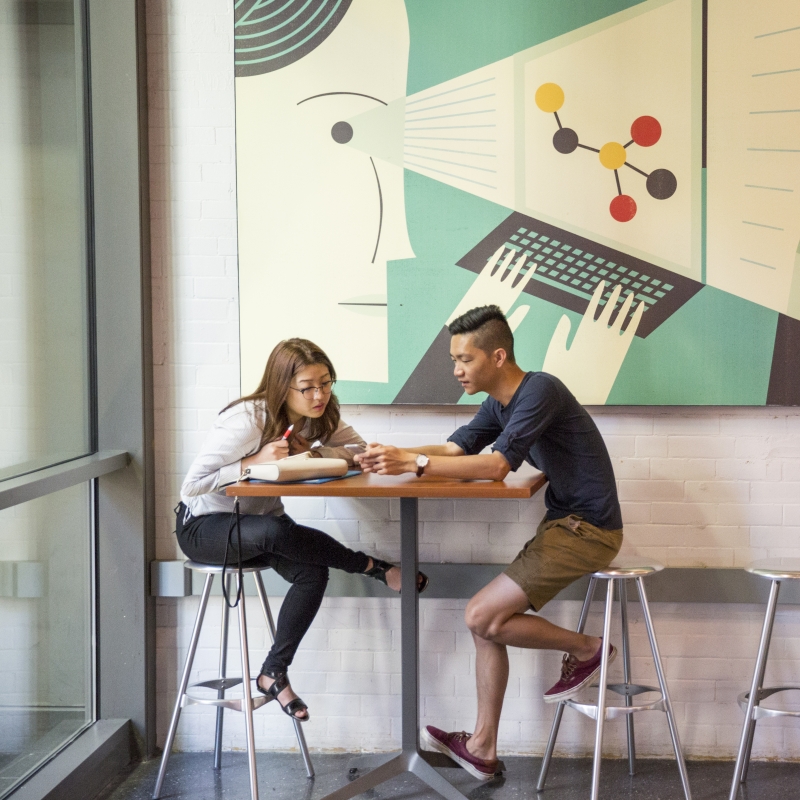 Variety
We have what you crave.
Craving something special? Try Lauder Cafe's Featured Entree, a chef curated meal such as Seafood Bouillabaisse or Moroccan Lamb. Craving breakfast? Enjoy Hill's breakfast all-day or our special Weekend Brunch. Want a break from the usual? Our weekly popups such as Fondue Friday, Waffel-palooza, Chili Cook Off or our chocolate fountain bring a something extra to your dining.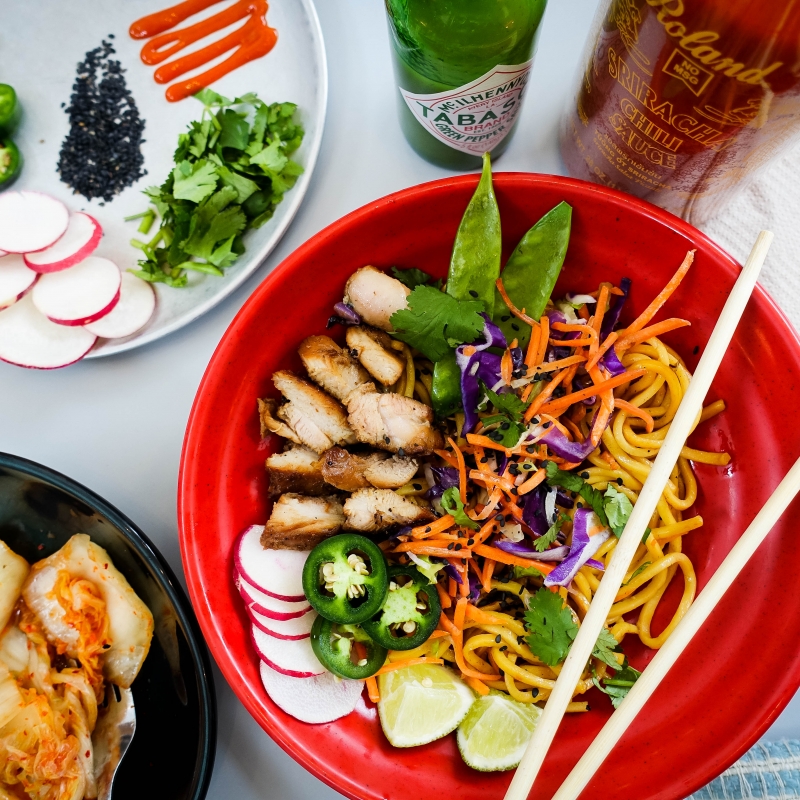 Special Events
Expect the unexpected.
At Penn, community is just as important as our meals. Each month we offer a robust schedule of events. Our regular Food for Your Well-being event offers tips and tricks for maintaining a healthy diet. PennCooks features the recipes of renowned chefs and sometimes the chefs themselves. Add to that our holiday feasts, visits from local farmers, Quizzo, and movie nights. There is always something happening in our cafes!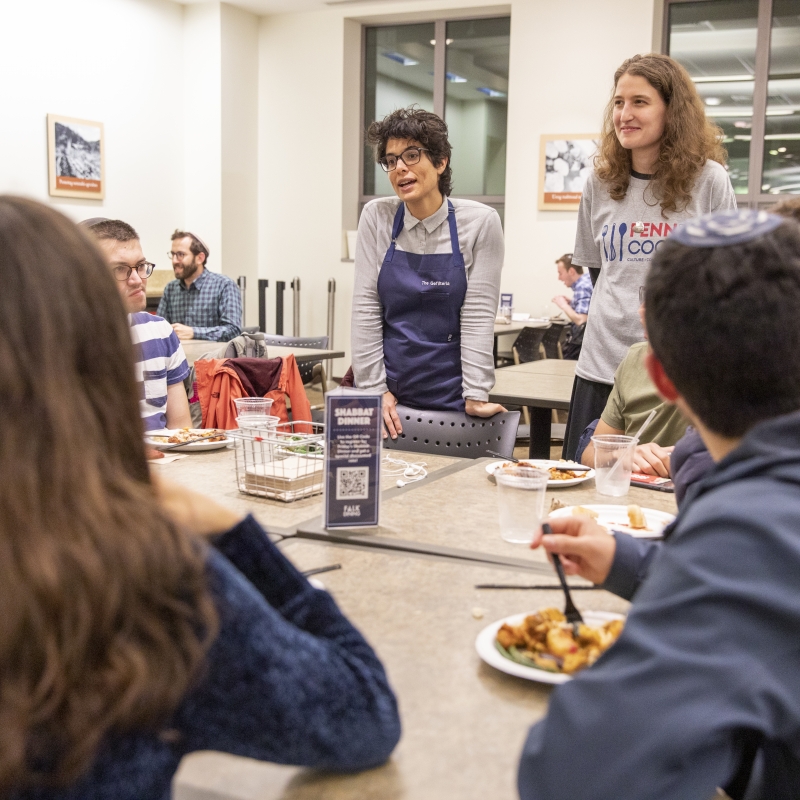 I would say that I have really enjoyed my time on the meal plan. It's allowed me to meet people that are younger than me and really get to know my younger teammates better. I just finished up my senior season on the football team and being on a meal plan was a convenient way for me to be able to 1. Get as much food as I needed to maintain weight and 2. Save myself time from cooking all my meals.
— Trevor C., W '19
As to why I stayed on the meal plan as an upperclassman, I really enjoy the convenience of dining dollars and the social aspects of going to the dining halls. Dining dollars at Gourmet Grocer, the engineering quad, and Mark's Cafe allowed me to grab a quick bite to eat while studying or heading home. I also absolutely loved that you can spend those dining dollars at the Farmer's Market on Wednesdays outside the bookstore.
— Jacqueline V., SEAS '18
The reason I stayed on a dining plan all 4 years was convenience. I'm an athlete that needs a lot of food to stay up and running, and I don't have the time to cook all of that food while I balance my other extracurricular activities. The dining hall is convenient because I can walk in and eat right away whenever I need to. There's no cooking and no clean up necessary, and I can eat as much as I want to.
— Malik J., W ' 18
Important Information
Dining Plans
How can I confirm my online dining plan selection?
You will receive a confirmation email after you sign up online at Campus Express. You can also view your dining plan under the Dining tab on Campus Express Online. If you do not receive the email or do not see your purchase in Campus Express, please contact the Penn Dining office at dining@upenn.edu for confirmation. 
How can I find out how many swipes or Dining Dollars I have left and what can I do if I run out?
Every time your card is swiped to use a meal swipe or Dining Dollars, the remaining balance will appear on the card reader screen. You can also check your current balance of Dining Dollars and swipes when you log-in to Campus Express and click on 'Dining'. Students may purchase add-on Dining Dollars online in any amount at Campus Express.  Students may also purchase add-on meal swipes.
Note: add-on meal swipes purchased in the Fall semester will rollover to the Spring semester.
Am I required to have a Dining Plan?
First-year undergraduates – First-year students are required to sign-up for one of the two First-Year Dining Plans. Students have until June 15 to select a plan, if you have not signed-up by that date we will automatically assign freshmen to the First Year 296 dining plan, our most popular plan. Students wishing to change their dining plans may do so once during the Fall Change Period, August 30 to September 20, 2022, and once during the Spring Change Period, January 3 to January 31, 2023.
Second-year undergraduates - Second-year students are required to sign-up for one of three dining plans - either of the two First-Year Dining Plans or a specially designed second-year plan. Students sign up for their plans when they apply for their housing assignment. Students wishing to change their dining plans may do so during the Fall Change Period, August 30 through September 20 or the Spring Change Period, January 10 to January 31, 2023. 
Transfer - First-Year transfer students are required to sign-up for a dining plan.  Second-Year Transfers can choose between the Second-Year 156 plan or one of the First-Year plans.  Third-Year transfers can choose between any of the undergraduate dining plans.  If students do not select a plan by mid-August, they will automatically be enrolled in the Second-Year 156 plan.
Exchange – Exchange students are required to sign-up for a dining plan choosing from any of the first-year or upperclass plans. If students do not select a plan by mid-August, they will automatically be enrolled in the Second-Year 156 plan prior to move-in.
What if I want to cancel my dining plan?
Cancellations are not permitted unless you are leaving the University for one of the following reasons: Leave of Absence, Withdrawal, Study Abroad, Graduation, or Fall Exchange Students (cancellation for spring semester only). If you are leaving the University and need to cancel your dining contract.

Dining plan cancellations will only be granted when the student officially withdraws from the University. Please review the Terms & Conditions for more information regarding cancellations, including cancellations for medical reasons.
When does my dining plan begin?
For Fall Semester, Dining plans begin on Aug. 24, 2022.
For Spring Semester, Dining plans begin on Jan. 3, 2023.
What if I have a special dietary need or nutritional need?
We encourage students to email Daniel Connolly, our Registered Dietitian, at daniel.connolly@cafebonappetit.com to discuss dietary needs and food allergies. He will work with our Executive Chefs to meet your needs in the best way possible. Additionally, our Executive Chefs are knowledgeable resources and welcome questions and concerns from guests regarding ingredients and preparation of our meals. For more information, please visit the Health & Wellness section of the website.
What if I want to make changes to my dining plan?
Dining plan changes are allowed once per semester during the official Change Periods.
Changes will be accepted during the Spring Change Period, January 10 to January 31, 2023. You may change your dining plan ONE time per Change Period, via Campus Express.  We encourage students to "test-drive" their dining plans for at least a week after classes begin before deciding to change plans. If you would like to add visits or Dining Dollars to your current plan, you may do so at any time.
Please note: Any additional charge or refund due as the result of a dining plan change will be based on the rate during which the initial sign-up took place.  (If you enrolled in your original plan at a promotional rate and change to another plan, you would be charged at the promotional rate of the new plan.)
Then we have just the thing to meet your needs! Penn Dining has the premiere Glatt kosher dining facility in the Philadelphia area, Falk Kosher Dining Commons located in Steinhardt Hall.  Falk's general hours of operations include lunch and dinner Mon-Fri (including Sabbath dinner on Friday), as well as Sabbath Lunch on Saturday (pick-up option only).   (Reservations for Sabbath meals are encouraged.)  Additionally, Falk's schedule (and menu) will be adjusted per any Jewish Holiday. The hours of operation and menus are always kept up-to-date on our hours and menus website.  Students can use swipes, Dining Dollars, PennCash, SFS, or cash.
For additional information regarding kosher dining at Penn, please contact the Penn Dining office at dining@upenn.edu.
What are Dining Dollars and where can I use them?
Dining Dollars are part of a dining plan. They are funds on your PennCard used to purchase items at any dining location. With each purchase made, the amount is deducted electronically from your Dining Dollars account balance. Undergraduate and graduate students with dining plans may add Dining Dollars to their PennCards at any time via Campus Express. You can use Dining Dollars to purchase a-la-carte items at our retail operations, including:
Houston Market - Houston Hall
Starbucks at 1920 Commons - 38th and Locust Walk
The Gourmet Grocer in 1920 Commons Retail - 38th & Locust Walk
Micro Market - Van Pelt Library, lower level 
Accenture Café - Towne Building 
McClelland Express - in the Quadrangle
Joe's Café - Steinberg Hall- Dietrich Hall  
Pret A Manger - Huntsman Hall 
Farmers' Market - University Square, 36th and Walnut St., Wednesdays, September through early November
Gutmann College House Cafe West
Falk Dining Commons - 39th and Locust Walk
Please note: Dining Dollars can be used in place of swipes at our all-you-care-to-eat locations as well.
What if I want to eat in the dining halls and I don't have a dining plan?
If you do not want to purchase a dining plan, but would still like to eat a meal at a dining location, you can pay as you go. Methods of payment accepted include PennCash, SFS, credit, and cash. Dining plans do offer savings, however, and paying with Dining Dollars will also enable you to dine in an all-you-care-to-eat facility at a discounted rate.
  SFSCredit/PennCash/cash/credit AYCTE door rates
| | |
| --- | --- |
| Breakfast | $12.90 |
| Brunch/Lunch    | $17.55 |
| Dinner | $22.70 |
How does my dining plan work?
All dining plans provide a specific quantity of swipes to the all-you-care-to-eat residential dining cafés for the semester. These can be used at any time. All plans also include Dining Dollars for use at any of our dining locations, but which are primarily used at retail locations. Students have the option to add swipes or Dining Dollars to their plan at any time throughout the academic year by visiting Campus Express.
Please note: Swipes and Dining Dollars are split by semester, you will receive one-half of the allotted amount of swipes and Dining Dollars in the Fall, and the other half in the Spring. Any remaining swipes at the end of the Fall semester will not be added to the swipes you receive for the Spring. Dining Dollars will roll over from the Fall semester to the Spring semester, but expire on Commencement day.
What if I lose my PennCard?
You must visit the PennCard Center, located on the second floor of the Penn Bookstore (36th & Walnut), to obtain a new ID card immediately (replacement fees apply). Without a PennCard, you are not guaranteed entrance to any secure campus building without some form of ID.  Students who have lost or misplaced their PennCard should contact the PennCard Office to obtain a new PennCard. The visits will be deducted from your dining plan and a processing charge of $2.00 will be billed to your SFS account for each voucher used. The voucher is valid only for visits covered under your dining plan. Additional visits will be billed to your SFS account.
How do I use my swipes and Dining Dollars?
Your dining plan is encoded on your University ID (PennCard). When you present this card to the cashier at a dining location, your swipes or Dining Dollars will be deducted from your account.
Who can I contact if I have a comment or suggestion?
We welcome customer feedback! Please feel free to email us at dining@upenn.edu or call us at (215) 898-3547.
Meal Exchange allows students to use a swipe to purchase a bundle of items (entrée, side, beverage, dessert) from select retail locations. Meal Exchange is available at Gourmet Grocer, Houston Market, Joe's Cafe, Accenture Cafe, McClelland Sushi & Market, and Cafe West.
Can I have a dining plan that is only Dining Dollars?
An all Dining Dollars plan is available to upperclass and graduate students. Visit our Dining Plan page for more information!
Can I get a refund for swipes I don't use?
Visits to the all-you-care-to-eat residential dining cafés are non-refundable and we do not offer reimbursement. If you find that you are not using enough of your visits and you are eligible to do so, you have the option of changing your dining plan during our plan change periods (see details and related policy information below).
What happens to my swipes and Dining Dollars if I change during the Change Period?
If you switch to a different dining plan during the Change Period, the number of swipes and Dining Dollars you have used will be subtracted from your new plan.
Regardless of what dining plan you have or whether or not you change your dining plan, all Dining Dollars carry over from the Fall semester to the Spring semester and expire on Commencement. All swipes expire at the end of the Fall semester and on the last day of finals in the Spring semester.
COVID Specific Information
How will COVID impact dining for Academic Year 2022-2023?
We will continue to follow CDC and Philadelphia Department of Health Guidelines and adjust our service accordingly. Updates will be provided as guidelines/recommendations change.