Faculty & Staff
Faculty & Staff Dining Program
Any faculty or staff member who has a valid PennCard is eligible to sign up for the Faculty Staff Dining Program and enjoy convenient, fresh and sustainably sourced meals right on campus.
Plan Benefits
Convenient, fresh, and sustainable campus dining options!
With the Faculty & Staff Dining Program you get:
* A 5 % discount at Houston Market (excluding Bento), Gourmet Grocer, Joe's Cafe, Accenture Cafe, and Cafe West.
* Access to food that is made fresh daily from local, sustainably sourced ingredients;
* The flexibility of adding Dining Dollars whenever needed; and
* The opportunity to enjoy a meal with other members of the campus community.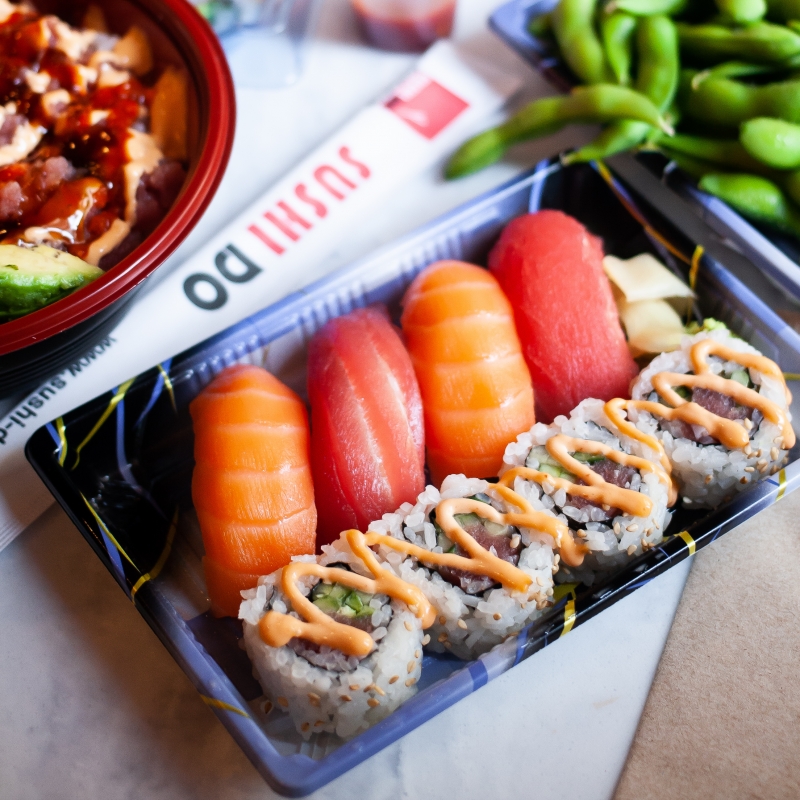 Important Information
Faculty & Staff
Dining Plan Enrollment; Dining Dollars
Eligible faculty and staff members must furnish a credit card payment (Visa®, MasterCard®, or American Express®) upon enrollment in the Plan, and if/when any additional purchases are made (i.e., additional Dining Dollars). Enrollment will be through the Penn Dining Website. The Faculty and Staff Dining Plan is comprised exclusively of Dining Dollars, which are credits toward à la carte retail food purchases, or toward the door rate at All-You-Care-to-Eat facilities. At initial enrollment Dining Dollars are loaded onto the plan holder's PennCard. To make purchases, the card is swiped by the cashier at the dining location and funds are accessed.
Faculty and Staff may add Dining Dollars to their dining plans at any time by going online to the Penn Dining website and making payments via our secure web portal and the faculty or staff member's personal credit card.
If no credits are added, the cardholder will not be able to use the card. The initial minimum charge amount is $50.00 and any add-on amount for Dining Dollars is a minimum of $50.00.
Faculty and Staff Dining Dollars do not expire and are not forfeited, subject to the provisions below under "Cancellation/Termination."
Meal Service | 2023-2024 Calendar
Please be advised that throughout the year, there are several intervals during which retail and/or residential dining operations are unavailable or otherwise operating on a limited basis. Those periods are as follows:
Fall Break, October 12-15, 2023 (limited operations)
Thanksgiving Break, November 23-26, 2023 (closed Thanksgiving Day; limited availability)
Winter Break, December 21, 2023-January 2, 2024 (closed; limited operations through January 17)
Spring Break, March 2-10, 2024 (limited availability)
End of Spring Term/Summer Break, May 20-June 30, 2024 (limited availability)
Meals and Services Offered
All-You-Care-to-Eat meals offered at four residential dining cafés and one Kosher dining café;
Grab & Go meals;
Á la carte food options at nine retail locations.
Please note: Meals and services offered vary by location. Click here for hours of operations.
The University provides dining services in a number of locations deemed most convenient for the majority of the Penn Community. The University reserves the right to close any existing dining service location or to move the location where any particular type of food service is offered, at the University's sole discretion, at any time during the term of this agreement.
5% Discount
Dining plan holders who use Dining Dollars at the following locations will receive a 5% discount (compared to out-of-pocket cost): Houston Market (excepting Bento), Gourmet Grocer, Joe's Café, and Accenture Café.
Using Dining Dollars at Residential Dining Locations
All dining plan holders are eligible to use Dining Dollars at any available All-You-Care-to-Eat-café by swiping their PennCard. The current door rates for Dining Dollars are as follows:
Breakfast - $12.75
Brunch/Lunch - $16.00
Dinner - $18.10
Please note: All door rates are subject to change.
Prices updated as of April 2023.
Kosher Dining
In partnership with the Hillel Center, Falk Dining Café provides Glatt Kosher offerings, prepared under the supervision of the Community Kashrus of Greater Philadelphia. For more information on Kosher Dining at Penn, you can review the information on the Penn Dining website.
Penn Dining includes designated items for Faculty and Staff who prefer kosher, vegetarian/vegan foods, or foods made without gluten-containing ingredients, in addition to the 8 major allergens.
Please review the Health & Wellness section of the Penn Dining website or contact Penn Dining at (215) 898-3547 or by email for further information.
Changes, Cancellation, and Refunds
Additional Dining Dollars

All Faculty and Staff Dining Plan holders are eligible to purchase additional Dining Dollars at any time, on the Penn Dining website.
Cancellation / Termination of Agreement
The University reserves the right to terminate this agreement for failure to pay charges on your account, University fees, for violation of University or Penn Dining policy, or when you are no longer employed as a full-time or part-time Penn or University Health System Faculty or Staff member.
If you as a cardholder leave the University, you must contact Penn Dining within 30 days of your departure in order to initiate the refund of any balance remaining in your Penn Dining account. Failure to act within 30 days will result in forfeiture of the balance and Penn Dining transferring the balance to a responsible non-profit charity.
Penn Dining plan holders may cancel their Dining Plan at any time. In that event, any unused Dining Dollars will be refunded, less an administrative fee of:
$3.50 if the amount of Dining Dollars being refunded is between $10.00 and $100.
3.5% of the total refund if the amount of Dining Dollars being refunded is greater than $100.
Penn Dining reserves the right to reduce your refund by any amount that you owe any other department or school of the University under any other account.
Except when the termination is for the convenience of Penn, balances below $10.00 will not be refunded. Penn Dining will transfer the money to a responsible not-for-profit charity.
If Penn Dining does not continue to offer the Faculty and Staff Dining Plan, you will be permitted to use the Dining Dollars that remain in your account; however, you will not be able to add additional Dining Dollars to your account.
Please note: All refund rates and policies are subject to change.
Faculty and Staff members must have their Penn Cards to enter the All-You-Care-to-Eat dining halls and to make purchases on their dining plans at other dining locations specified above when using their dining plans.
Dining plan agreements are legal contracts between you and the University Of Pennsylvania.
By signing the dining plan contract or confirming your online dining plan selection, and/or participating in the dining program, you agree to accept all of the terms and conditions of the dining contract.
If you believe a transaction was made in error, contact the manager of the location where the error occurred at the time of purchase, or contact Penn Dining as soon as possible, but no longer than 60 days after the appearance of the transaction in question. You will need to provide the following information:
First and Last Name as printed on your PennCard;
Your Penn ID#;
A complete description of the error in question, with an explanation of why you believe the transaction to be an error;
The date, time, and dollar amount of the error, and, if possible, a receipt.
The PennCard office cannot issue a stop payment on a transaction. All transactions occur in real time. All error resolutions must be conducted between the cardholder and the manager, with the help of Penn Dining, as needed.
Updated August 2021
You may enroll in the Faculty and Staff Dining Plan at any time. All enrollments are processed through the Penn Dining website.
Eligibility and Requirements for Dining Plans
Any Faculty member or Staff employee who wishes to participate must be employed full-time or part-time with the University or the University Health System and have a valid PennCard.
Please note: Individuals whose primary affiliation with Penn is classified as "Student" are ineligible to enroll in the Faculty and Staff Dining Plan, even if they are employed by the University in some capacity. The Student Dining Plan is available to them.